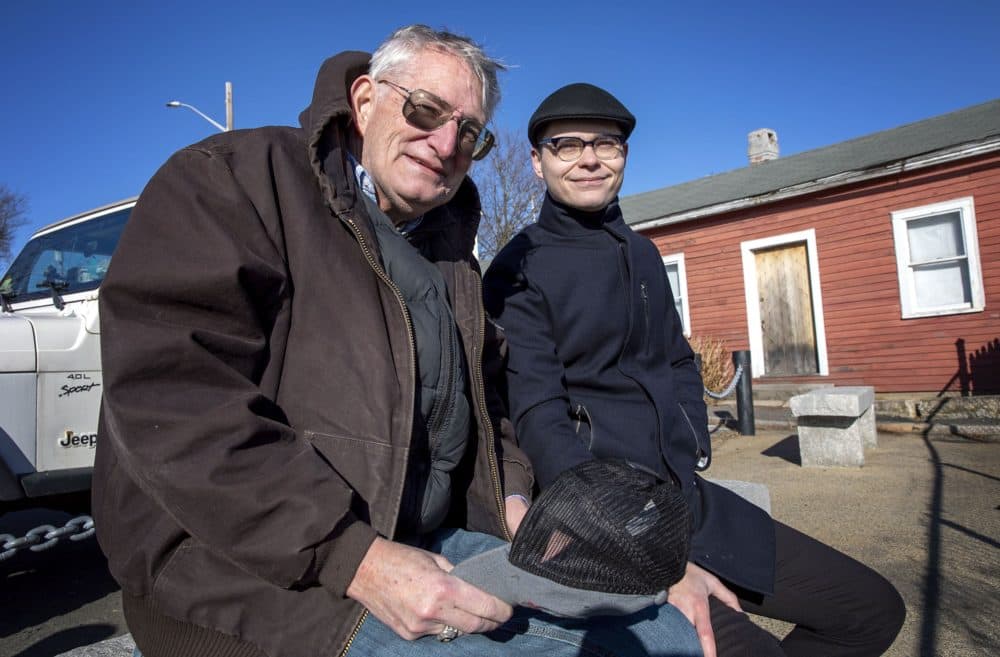 Common dreams: how an unlikely friendship reshaped the rules of medical marijuana in Massachusetts
[ad_1]
On a stone bench, between Salem Harbor and The House of the Seven Gables, two friends have settled down to smoke some weed.
"We love this place," said Jeremiah MacKinnon, 26.
"Yes," added his companion, Frank Shaw, who is 68 years old.
The two make an unlikely pair. Shaw wears a baseball cap with a graphic of a cannabis leaf with ECG monitor waves. MacKinnon sports an old-fashioned newsboy cap. Shaw, with hazy gray hair, looks like a prankster. MacKinnon, a young millennial, wears the aura of someone older.
You might not know it from watching them, but some say the team are among the most powerful – and surprising – of the medical marijuana defense forces on Beacon Hill.
"Literally, between the two of them, they're really making history together."

Gary gill
Shaw showed MacKinnon a state-of-the-art vape he just received.
"It's one of the new cartridges," MacKinnon observed.
"It's Granddaddy Purple," Shaw said of the strain inside. "It helps me with my feet, my back and my sleep … My heart beats for cannabis, basically."
MacKinnon pulled out his weed of choice, a Do-Si-Do joint.
"I have a little something for me here," he said.
"Oh good," Shaw said.
In Massachusetts medical marijuana, Shaw and MacKinnon are a dynamic duo. They often appear in local news media, in reaction to legislation affecting medical users. And they testify regularly to the Cannabis Control Commission.
Two years ago, Shaw took legal action, challenging Gov. Charlie Baker over a vaping ban. It's all part of Shaw and MacKinnon's ongoing efforts to ensure that patients 'rights remain at the forefront of lawmakers' ongoing discussions about changes to the regulation of medical marijuana.
"Literally between the two of them they are really making history together," Gary Gill said at a seaport social event hosted by the couple last year.
Gill, who is a medical cannabis patient, has been friends with Shaw for over 25 years. Before the pandemic, Shaw and MacKinnon held meetings for people like Gill and anyone else curious or familiar with the medical cannabis industry. The gatherings are called "Toasty Tuesdays". And Gill said he was impressed with their friendship and what they accomplished.
"It's just amazing the relationship between an older person and a younger, like-minded person about the industry," said Gill, adding that their goal is to "make sure the patient will always be taken care of. and covered ".
Shaw and MacKinnon met over seven years ago in a weed testing lab in Framingham. They were there for an industry event and have been friends ever since.
At their favorite place in Salem, MacKinnon said his activism was informed by the wisdom and experience of his older counterpart.
"I'm learning from Frank that when we talk about medical marijuana, there really are people who need it," MacKinnon said.
He and Shaw both use medical marijuana to treat health problems. MacKinnon has scoliosis from a car accident a few years ago and suffers from back pain. Shaw has lived with AIDS since the 90s and uses medical marijuana to treat the resulting peripheral neuropathy.
"And that just helps validate, for me, that marijuana is a drug," MacKinnon said.
When asked what he learned from his young friend, Shaw laughed.
"Is he supposed to be the older guy teaching the younger?" He asked. "Yeah, I don't know about that. We're just good friends."
After their smoke session, the two get into Shaw's old white Jeep, with young MacKinnon at the wheel. They often drive him across the state to clinics like Sira Naturals in Somerville, where they launched a program last year to provide relief to low-income people living with HIV.
"I started the Frank's Friends initiative to help AIDS patients like me – we get discounts because we're in a tough situation where we can't afford our meds," Shaw said.
"Current hardship programs are typically 10-20% off," MacKinnon explained. "But Sira Naturals is the first to partner with the Frank's Friends Initiative, and we hope to have many more across Massachusetts."
So far, six additional dispensaries have joined the Frank's Friends initiative. After their stop at Sira Naturals, the couple set off again in the white Jeep, which MacKinnon says was supported by a GoFundMe campaign.
"And he got the Jeep going," MacKinnon said, before helping Shaw.
"Yes. Absolutely," Shaw agreed.
If the pair were crusaders wearing medical marijuana, the White Jeep could be their Batmobile.
"I would say the Jeep looks more like the Millennium Falcon [from 'Star Wars'] than the Batmobile, "said Michael Latulippe, a mutual friend and Toasty Tuesday participant. "Jeremiah, I think it would be the Han Solo in this circumstance since he normally drives the Jeep. Frank looks a bit more like Chewbacca in this case. "
MacKinnon, a resident of Peabody, lives with his family and earns money by participating in focus groups and product surveys. Shaw, a retired software engineer, lives in an apartment in Ipswich with a personal care assistant. But much of their time is spent together, on the roads of Massachusetts, advocating for the medical marijuana policy.
Before the pandemic, they frequently visited Massachusetts State House to testify before the legislature. They pushed lawmakers to get rid of vertical integration, an obscure rule that requires medical marijuana stores to grow their own cannabis; advocates say the requirement makes it harder to open new stores and pushes up the price of marijuana. Adult pot stores do not have the same requirements.
More recently, they created a program to translate medical cannabis literature into different languages ​​in order to reach more potential patients.
While their advocacy keeps them busy, they find quiet refuge in one another. On the stone bench in Salem, MacKinnon and Shaw plan their next move, smoke weed, and ignite their friendship.
"Easier with no wind," MacKinnon said, trying to light his joint in a gust, as Shaw coughed. "It's a beautiful scene by the water. It's peaceful. There's really no one around."
"It's good," Shaw said. "I appreciate."
[ad_2]