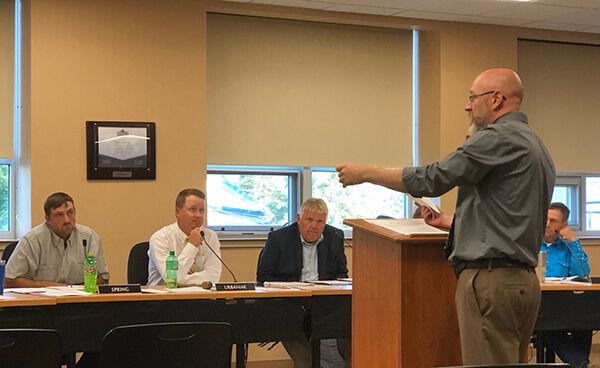 Meade School Board Adopts Medical Cannabis Administration Plan | Local News
[ad_1]
STURGIS – The Meade School Board passed the first reading of its new medical cannabis administration plan on Monday.
Some members of the board of trustees and the district attorney were concerned about the gray area of ​​state law which appears to cast doubt on whether students 18 years of age or older can self-administer. medical marijuana at school or during school activities.
Medical marijuana became legal in South Dakota under measure initiated July 26.
The South Dakota Board of Education Standards suggested rules for administering medical cannabis in schools, which were then forwarded for adoption by a provisional legislative rules review committee.
These rules state that students cannot own or self-administer medical cannabis on or on school property, or during school-sponsored activities. Only their designated caregiver, who must be 21, can possess or administer medical cannabis to the student (s). This rule also applies to students aged 18 or over.
Meade School District attorney Eric Nies said the law could be interpreted to say that if a student is over 18, they do not need a caregiver to administer medical marijuana .
"There may be times when it is decided that the intention is to say that if you are over 18, you can self-administer. If that's the case, we'll have to come back and talk about it, "he told the board.
The Medical Cannabis Administration Policy, labeled by the district as JHCDE, is a five-page document outlining how the district is supposed to allow the administration of cannabis to students on school grounds.
Under the new policy, students with a valid medical cannabis registry identification card, who intend to consume the substance at school or at school-related events, must have a caregiver assigned to administer the medication.
The policy requires that each eligible student and their parent, guardian or designated guardian, 21 years of age or older, provide three documents. These include a State Department of Health (DOH) approved registry ID card, a caregiver card that has been approved by the state showing their registered designated caregiver status for the eligible student , and a written document, dated and signed a certificate from the practitioner recommending the student indicating the dosage, frequency or time of administration and the time interval between doses of medical cannabis.
The policy states that copies of the required documentation would be made and placed in the student's academic record.
A student's designated caregiver is the only person authorized by policy to provide, administer or assist the student in consuming medical cannabis while on school property or participating in school activities. .
District officials say they don't want medical cannabis stored on school property or given to students by school staff. They also don't anticipate that many students will need medical cannabis services this year.
School board member Charlie Wheeler asked what was the reason behind not storing medical marijuana on school property.
Nies said the Associated School Boards of South Dakota recommended against storing marijuana on school property for liability reasons.
"In advising you, I would prefer that you did not store it. We are talking about a substance that is still controlled under federal law. I prefer that it is not the district's responsibility to keep track and make sure it is not stolen, "he said.
Wheeler said he couldn't understand why the district wanted to make administering medical marijuana so difficult for so few students who could use it.
"This child must be in pain because we don't want to store it and distribute it like we do everything else?" Wheeler asked.
Meade School District Superintendent Don Kirkegaard reiterated that the law as passed states that a caregiver must administer medical cannabis.
"By law, he just cannot self-administer. He can't go get the gum or the brownie or whatever. He has to have someone to administer it, "Kirkegaard said.
The council voted unanimously to pass the policy's first reading and will hold the second reading at its October 12 meeting.
To read all of today's stories, click here or call 642-2761 to subscribe to our electronic edition or home delivery.
[ad_2]